I have finished the work on 2 ordered dolls from the Dea Vivente Familia mini-series, and now I'm presenting them to you!
As it appeared to be, many people like red ones. Indeed, I adore them myself as well!
The beauty sisters were born to be so different – a fatal modern woman (Taiga #6, on the left in the picture) and a soft Renaissance girl (Taiga #5, on the right in the picture).
A peaceful face, feminine 'velvety' body shape and long hair of Taiga #5 make her related to the classical image of Venus.
Though, after seduction lessons given by the sultry woman to the innocent young lady, even softness can ignite with flame!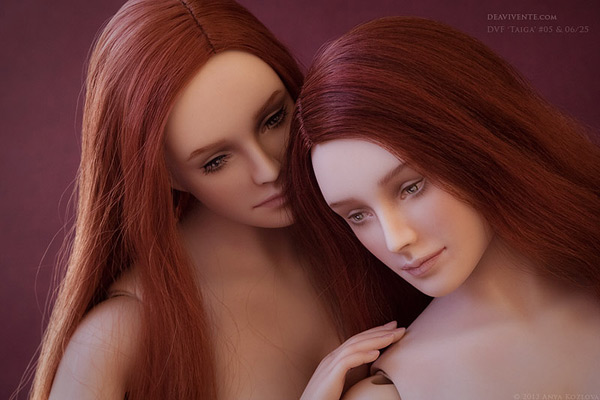 And then all what is left is being dissolved and entangled in this burning hair, which will devour by its fire!
I've applied extensional eyelashes to painted eyes for the first time (for Taiga #6), and I liked such an image as well. I think I will frequently use this addition to dolls' eyes.
I left these eyelashes long, in their initial state – the future owner will decide as he/she prefers it, and can make them shorter, if necessary. But who can resist a wave of fluffy eyelashes and such a piercing stare from under half-closed eyes?
Also, you may notice that I've found a new way for myself to disguise steel wires. They look naturally in this state, and now they don't attract attention, allowing the view to slide smoothly along the curves of the doll's body. I'm pleased with the result, and will use this method in future.
Taiga #5 will go on a long journey soon, and the girl with long eyelashes (Taiga #6) due to certain circumstances will not see the owner she was intended for, and now she is searching for careful hands and a new home here, probably will be in time to be put under a Christmas tree.
You can look at more photos of the new dolls in this gallery.