After the long-continued technological "wars" for quality, I have received the result I have been striving to. I proudly present you a new Dea Vivente – Vilena.
As I promised, this doll will be sold, and the buyer will be determined via the auction at the Dea Vivente website. The auction starts for bidding on the 11th June 2012 and ends on the 19th June 2012 at 00:00 Moscow time (GMT+04:00).
Besides, I have succeeded in putting my thoughts considering copyright policy in order, and now they are presented in the respective section on the site.
Vilena is a very soft, tender and feminine girl. I like her long blond hair, it's natural and looks very realistic. The blond wig will be included in the doll's set.
Outdoor photo-session in the early morning was incredibly thrilling, and many hours had passed before I shut the lid of the lens and went on to look at the shooting results.
All the outdoor photos can be seen at the Vilena gallery.
During the process of painting I was inspired by the look of red locks together with Vilena's face, they suit her virtually perfectly and look as good as the blond ones. That's why I decided not to deprive Vilena of the opportunity to wear red coloured hair, to make this wig and add it to the doll's set.
I have made the second photo-session to be a studio one. Red Vilena with haircut and styling looks more dignified and stately.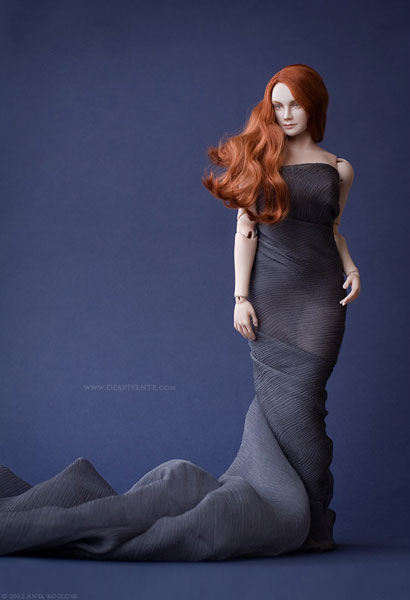 You can look at the studio photo-session in the Gallery.
P.S.
The site registration of users is open. You will find more about registration in the special section.
The auction FAQ and the example of sales and purchase agreement will be available later before the start of the auction.